12 pictures take you to the 2019 refrigeration exhibition, HZSS's style
12 pictures take you to the 2019 refrigeration exhibition, HZSS's style
2019.04.09-11, Global refrigeration industry annual feast, China Refrigeration Exhibition was held in SHANGHAI New International Expo Center. HZSS once again attracted a lot of attention with a brilliant HZSS's blue. Then we will take you in the form of pictures to review the exclusive time of this year's refrigeration exhibition with HZSS.
------------------------ 1 -----------------------
Innovation and progress is the purpose of HZSS. HZSS has more than 30 persons R&D teams in heat exchangers, and has maintained high investment in innovation and R&D for many years. In this year's refrigeration exhibition, we launched more than ten innovative products, which is another achievement on the road of innovation of HZSS. At the scene, domestic and foreign experts and customers were attracted to stop to test and express appreciation.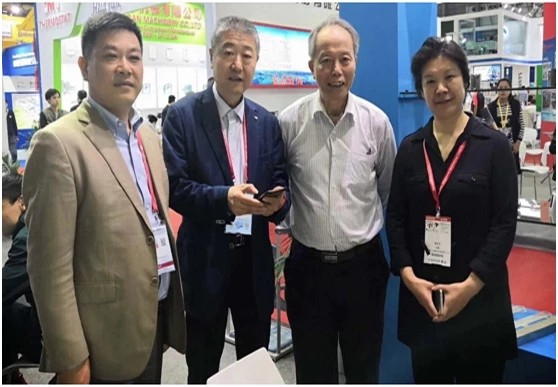 The two major masters of the Chinese HVAC industry, Tsinghua University professor Jiang Yi, and Professor Ma Yitai from Tianjin University to visit the booth of HZSS to observe, and take photos with Shen Weili, president of HZSS.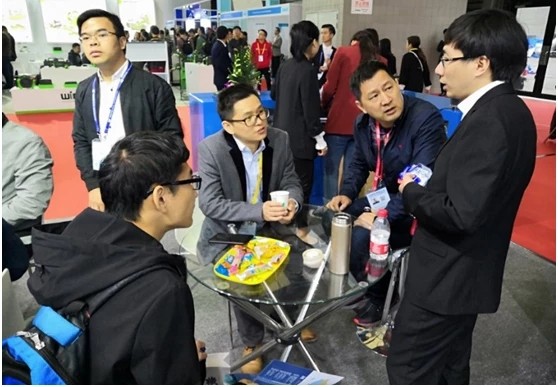 Shen Weixiang, President of HZSS, introducing the innovative products to customers.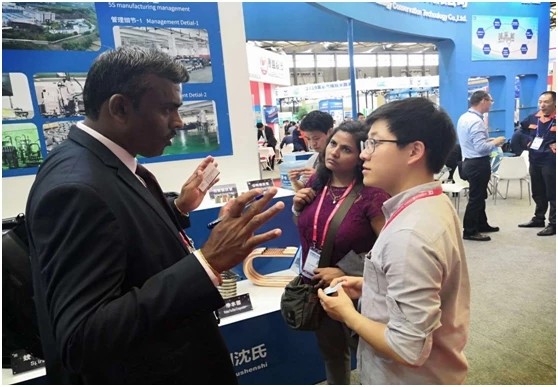 The high attention of foreign customers to the company's products, and warmly consulted Shen Zeqi, the foreign sales director of HZSS.
The latest products launched by our company at the refrigeration exhibition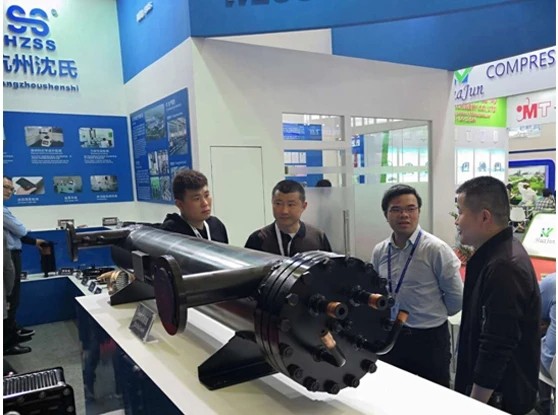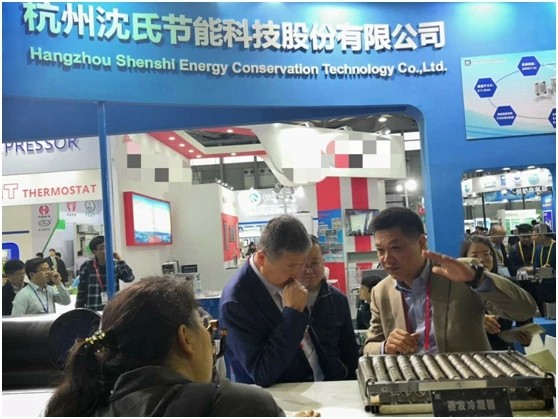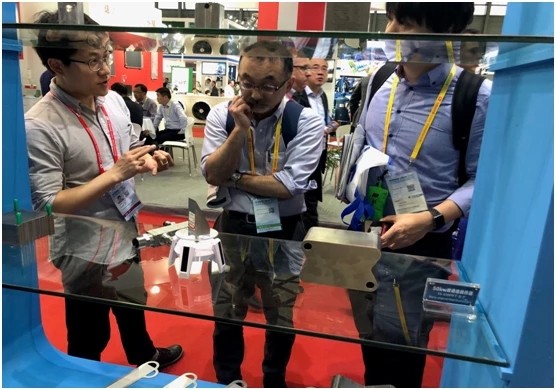 The customers visiting microchannel product exhibition area of HZSS.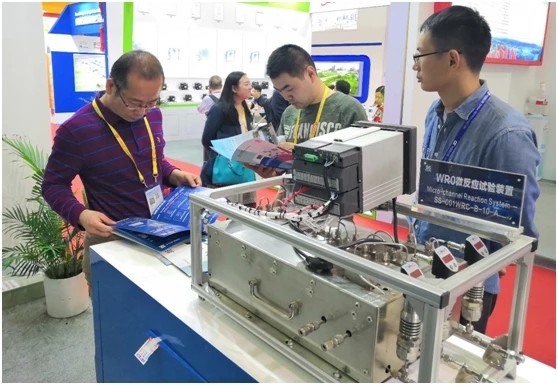 The customers understanding HZSS's micro-chemical reaction device.
Printed Circuit Heat Exchanger (PCHE):
Applicable to aerospace, aviation, FLNG, nuclear power, solar thermal power generation, hydrogen refueling stations and other fields. Features: high pressure resistance (30-100MPa), temperature resistance (-90°C-900°C), heat transfer coefficient reach up to 3000-5000W/(m2•K), small channel size (0.1-2mm), high compactness (2000m2/ m), high welding strength (atomic connection, equivalent to the strength of the material base material), high reliability, no excess, no solder blockage.
Plate fin heat exchanger:
Applicable to gas-liquid and gas-gas heat transfer, suitable for ships, heavy machinery and other fields. It is characterized by high temperature resistance (0-900 ° C), high pressure resistance (1-10 MPa), corrosion resistance (welding without solder) etc.
Microreaction system:
It consists of feeding module, preheating module, reaction template, product template, temperature control and data acquisition module. Automated control and access to the customer DCS system for centralized control. Through the reasonable combination of integrated microchannel reactor, integrated microchannel mixer and integrated microchannel heat exchanger, it can realize the continuous, miniaturized, mobile, modular and intelligent production.
In order to meet the research and development of pharmaceuticals and laboratories, we also provide experimental equipment with a liquid holding capacity of less than 1ml. It is detachable, easy to maintain, and free to use the industrial design of the number of plates for customer convenience.
------------------------ 2 -----------------------
We have two main areas in this exhibition, the main display area and the heat pump area, which shows hundreds of heat exchanger solutions for the majority of users.
The site of HZSS's main display area and heat pump area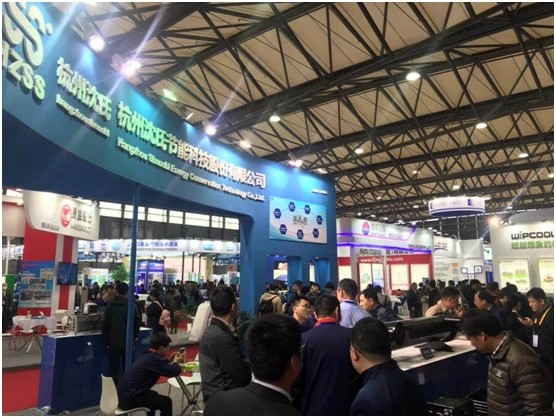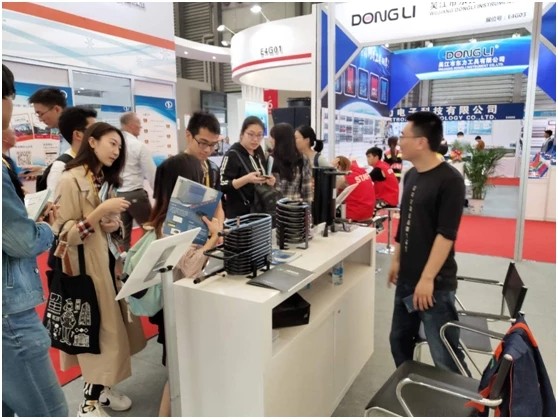 ------------------------ 3 -----------------------
The Refrigeration Exhibition hosted more than 20 official forum events, including the 2019 Ozone Climate Roundtable and Roadshow Series and the Heat Exchanger Development Forum, jointly organized by the United Nations Environment Program and the China Refrigeration and Air-Conditioning Industry Association. HZSS is involved, and got on a brainstorming about green cooling and cutting-edge technology has been carried out.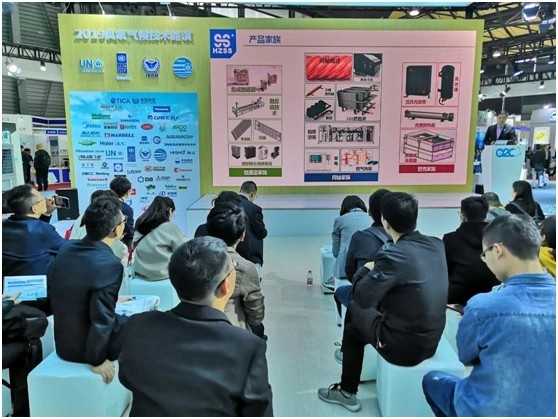 The domestic sales director Li Ga on behalf of HZSS in the "2019 ozone climate technology roadshow" keynote speech:
"Supercritical Carbon Dioxide Heat Pump Heat Exchanger"
Zhao Bo, senior engineer and R&D director, who delivered a keynote speech at the "Heat Exchanger Development Forum" on behalf of HZSS:
"Application of ultra-compact heat exchangers in the aerospace field"
------------------------ 4 -----------------------
We have been working hard to protect the environment. In addition to a small number of paper samples, we have specially launched a variety of U-disk style booklets, as well as official wechat and official website QR codes. Not only is it conducive to environmental protection, it is more convenient for customers to carry.

------------------------ 5 -----------------------
Smart solution for you; warm peers, Creative the future:
The annual refrigeration show is over, and HZSS Thank you for your guidance. The team of HZSS is committed to being the best supplier of heat exchanger solutions. We look forward to working with more customers to develop environmentally friendly heat exchanger solutions to meet the needs of society, practice the concept of HZSS's success in helping customers and growing with customers.

Contact Us

TEL: +86-0517-64510919
Email: gjb@hzssjn.com
Location:Dadiankou District, Hangtou town, Jiande City, Hangzhou, Zhejiang Province, China

Compasny Profile

Hangzhou Shenshi Energy Conservation Technology Co., Ltd (HZSS) is a leading research & development, manufacturing, sales, and service supplier for heat exchangers, energy conservation products. HZSS is located in Hangzhou city, the east of China,...