Why choose us

15 years of rich experience in production of heat exchanges, services and system solutions.
Customization

According to the requirements of customer working conditions, special customization of your products.

Quality Control

HZSS strictly organize production and inspection according to the technical standards of products, and resolutely prevent unqualified products from flowing into the market.

Warranty

HZSS offer 12months warranty for heat exchangers.

After Sales Service

We can provide global online help for installation and maintenance work, and after-sales service during the warranty period.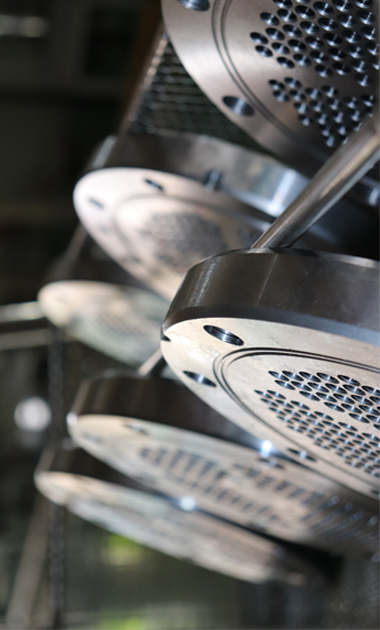 Our Projects

ENGINEERING ADVANTAGES MEANS THAT OUR PARTNERS CAN BE CONFIDENT IN EXPECTING THE BEST FROM US IN ALL AREAS.
OUR SOLUTION

EVERY ORDER IS AN OPPORTUNITY FOR US TO KEEP PROGRESSING AND GAIN MORE EXPERTISE & EXPERIENCE TO BETTER SERVE OUR CLIENTS.
Product Category

Our heat exchangers You best chioce
requesta quote
Based on your detailed purchase request, we will provide a quotation within 24 hours.
Contact us today
Bye 2020, Welcome 2021

December 31,2020

For the upcoming 2021, HZSS will take a more heartfelt original intention to provide customers with the highest quality heat exchanger solutions.

The collision between HZSS's Microreactor and World Pharmaceutical Machinery China Exhibition

December 12,2020

On December 16-18, 2020, The 20th World Pharmaceutical Raw Materials China Exhibition"(CPhI & P-MEC China 2020) will be held in China· Shanghai New International Expo Centre. Booth number: W5A30, Hangzhou Shenshi Energy Conservation Technology Co., Ltd. (and its subsidiary-Zhejiang Micro-smart Solution Energy Technology Co., Ltd.) sincerely invites you to visit.
You will find yourself working in a true partnership that results in an incredible experience,and an end product that is the best.
What are the main products of Shenshi?

Answer:

Main products are coaxial coils heat exchangers, shell and pipe heat exchangers (Shenshi's patent), coil-in-shell heat exchangers, shell and tube heat exchangers, and integrated micro-channel heat exchangers, micro channel reactors, micro-reaction systems and micro-chemical complete sets...

More details
What are the advantages of Shenshi's Shell & Tube Heat Exchanger?

Answer:

1.In terms of design:

Safety: Design and manufacture high efficiency tanks using the standards of pressure vessels; Reliability: Reliability Design Concept (DFR) + perfect quality control system, Consistency: Six Sigma Design (DFSS) Control + Statistical Process Control (SPC), Water side performance: the use of spiral baffles, more uniform distribution of water flow than traditional bow baffles, repeated simulations to optimize flow channel design; Freon side performance: repeated simulation to optimize refrigerant side piping; repeated simulation and optimization of distributor design, evaporation temperature increased by 0.5℃...

More details
What is PCHE?

Answer:

Printed circuit heat exchanger (PCHE), also known as Diffusion-bomded Compact Heat Exchanger (DCHE)) is a new type of printed circuit board heat exchanger based on 3D printing technology. It is compact as a new type of heat exchanger. High degree, it can heat transfer under harsh conditions such as high temperature and high pressure. PCHE heat exchange unit channels on the order of microns to millimeters can be etched using chemical etching techniques...

More details
what is micro-chemical?

Answer:

Micro-chemical technology starts from the source of chemical preparation process and equipment, and utilizes the microchannel reactor to enhance the mixing (mass transfer) and heat transfer, and the reaction liquid holding capacity is small (intrinsically safe), without the advantage of amplification effect. Integrate continuous steady state and integrated automation into the optimization of chemical synthesis processes, design, and large production processes. The continuous flow process is an important technical means to improve the intrinsic safety of hazardous chemicals production and realize industrial transformation and upgrading...

More details
Please send your message to us