heat exchanger for swimming pool heat pump
Condenser For Swimming Pool Heat Pump
Product Profile:
Shell and pipe heatexchanger is a kind of high efficiency heat exchanger which is composed of highefficient Ω style inner pipes and shell ofbaffle plastic plate(-PA6). It has theadvantages of shell & tube heat exchanger and plate heat exchanger.
Product Features:
1.Anti-freezing
Both heat exchanging inner core with structure of Ω and plastic baffleplate possess the ability of elasticity to obtain the function of anti-freeing.
2.Anti-corrosion, long serve life
HZSS patented structure of plastic baffle plate and titanium innercore has long serve life and corrosion resistance.
3.High Efficiency
Heat exchanginginner core are internal threaded to obtain more heat transfer area andturbulence flow in order to achieve higher efficiency.
4.Special refrigerant connection sealing to avoid leakage.
5.Easy maintenance and cleaning
The shell is designed to be dismountable to make maintenance andcleaning much easier.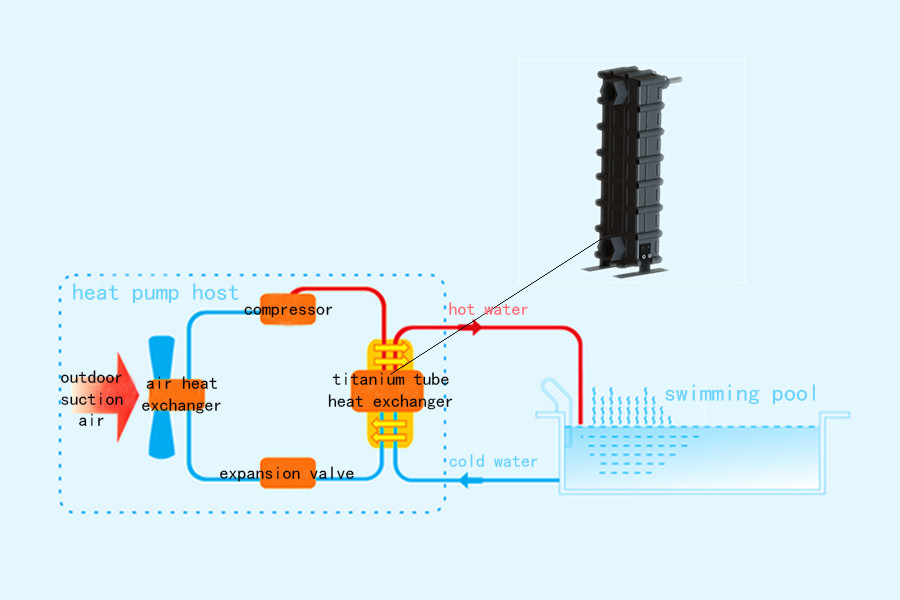 Model List of Condenser for Swimming Pool Heat Pump
Model
Refrigerant
Water flow
Water pressure drop
Capacity
Drawing
GPM
m³/h
PSI
kPa
Btu/h
kW
SS-0030STi-Y
R410A
24.66
5.6
2.63
18.1
55600
16.3
View Drawings
SS-0050STi-Y
R410A
29.50
6.7
3.60
24.8
66200
19.4
View Drawings
SS-0070STi-Y
R410A
34.34
7.8
4.74
32.7
77100
22.6
View Drawings
SS-0090STi-Y
R410A
38.75
8.8
5.89
40.6
87000
25.5
View Drawings

Note: All models is titanium Inner tube.

Test Condition: Water inlet temp 26℃,water outlet temp 28.5℃,Condensing temp 40℃.

Water inlet temp 78.8°F,water outlet temp 83.3°F,Condensing temp 104°F.