"Micro-channel High-efficiency Compact Heat Exchanger (PCHE) for Offshore Oil and Gas Fields" Engineering prototype passed appraisal
The engineering prototype of "Micro-channel High-efficiency Compact Heat Exchanger (PCHE) for Offshore Oil and Gas Fields" jointly developed by CNOOC Gas and Power Group, CNOOC (China) Shanghai Branch and HZSS passed the appraisal
Recently, CNOOC Gas & Power Group Co., Ltd., CNOOC (China) Co., Ltd. Shanghai Branch and Hangzhou Shenshi Energy Conservation Technology Co., Ltd. (HZSS) independently developed the "Micro Channel Compact and High-Efficiency Heat Exchanger (PCHE)" engineering prototype through China The appraisal of the results of the Federation of Machinery Industry has filled the domestic gap and has generally reached the international advanced level. It can be used in offshore oil and gas/LNG and related fields. This signifies that China can independently develop and produce efficient and reliable PCHE equipment for offshore oil and gas fields! The localization of the equipment is of great strategic significance and economic benefits for breaking the monopoly of foreign technology, improving the level of domestic equipment manufacturing, and ensuring national energy security.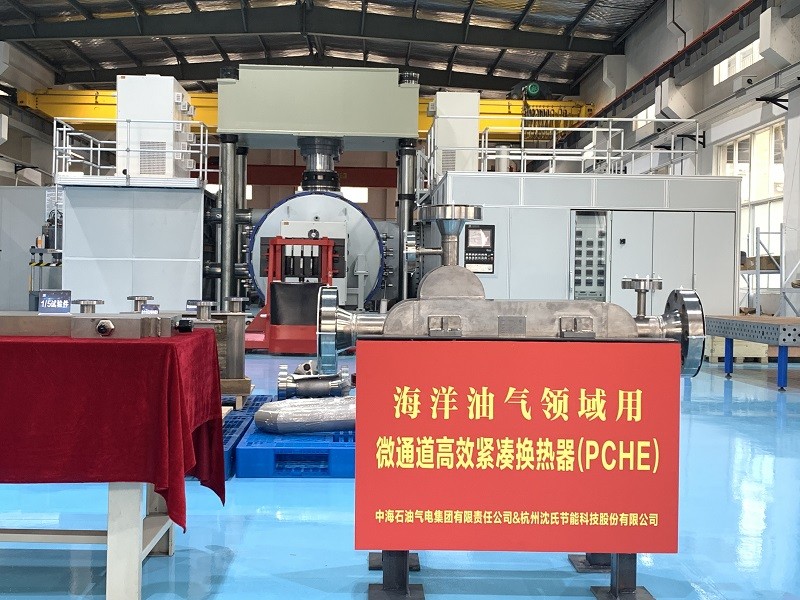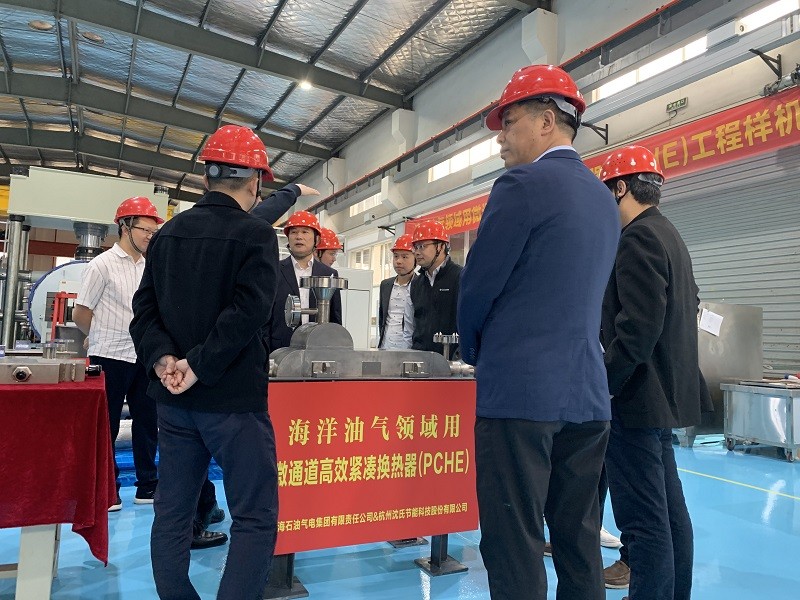 Figure 1-2: Micro-channel compact heat exchanger for offshore oil and gas field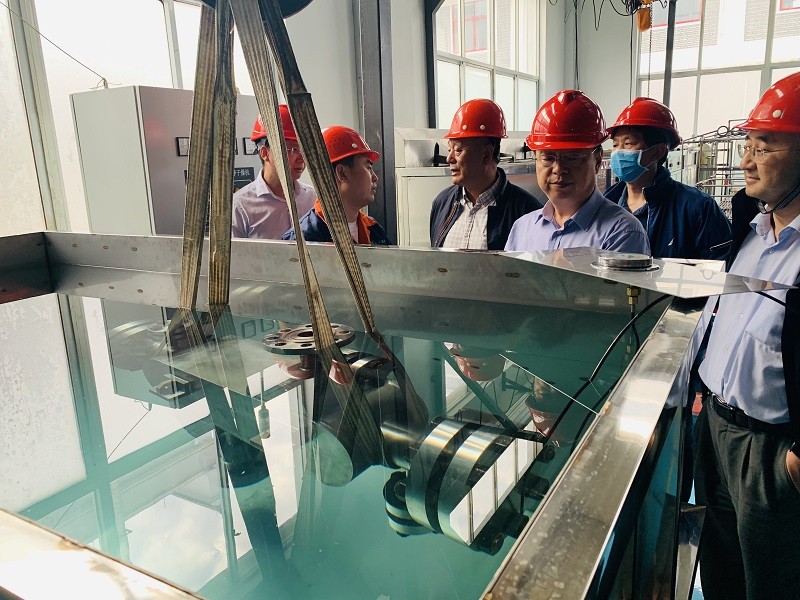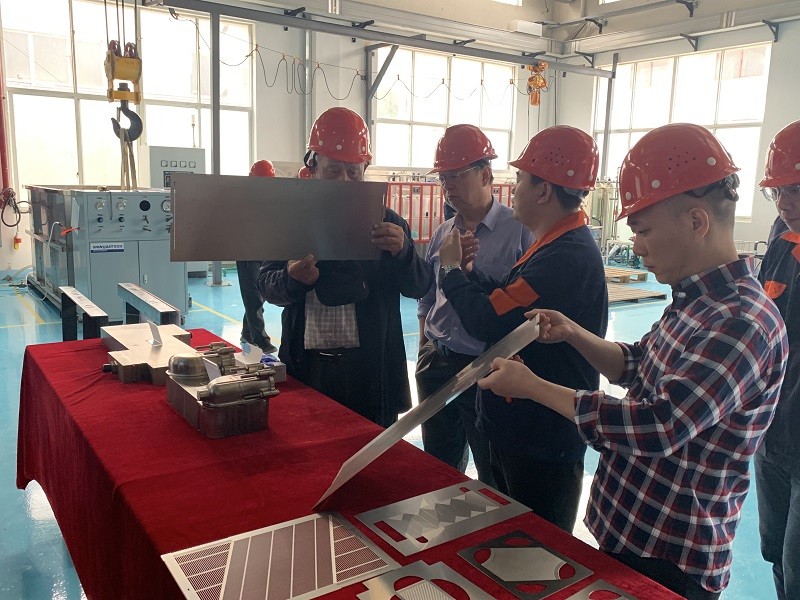 Figure 3: Product suppression appraisal Figure 4: Microchannel plate identification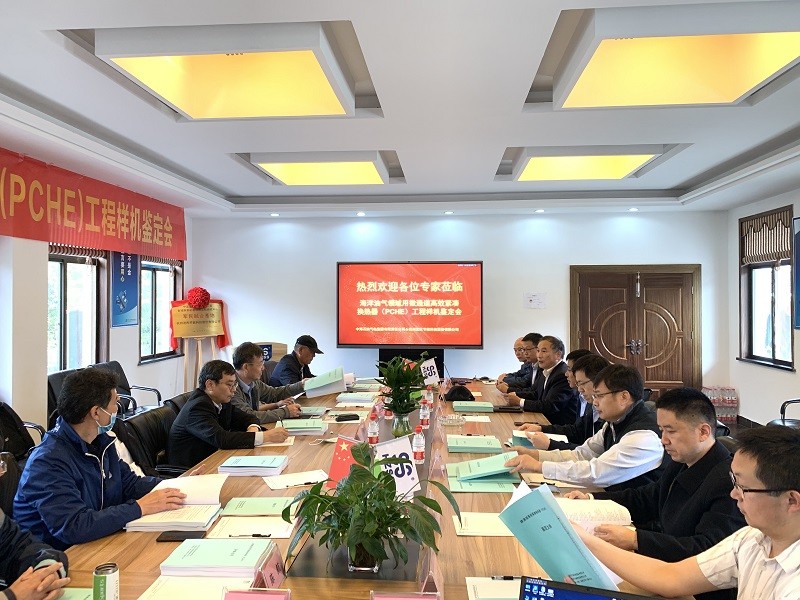 Figure 5: Review and appraisal meeting

The project is benchmarked against similar international products and is part of the CNOOC Gas & Power Group's project "Development of Micro-channel High-efficiency Compact Heat Exchangers (PCHE) for Offshore Oil and Gas Fields". HZSS according to the PCHE thermal design plan provided by China National Offshore Oil & Gas Group, we will complete the mechanical design and manufacture, inspection, performance testing and review and certification of related design documents of the PCHE prototype, laying a technical foundation for accelerating the localization of CNOOC's independent core equipment .
The micro-channel heat exchanger is a new type of compact heat exchanger developed in recent years. It is processed by chemical or mechanical methods to form tiny heat exchange channels on thin plates, and the plates are assembled together by diffusion welding. This kind of heat exchanger has the advantages of compact structure, high heat exchange efficiency, high temperature resistance, high pressure resistance, and corrosion resistance. In the field of offshore engineering, PCHEs can greatly save the construction cost of offshore equipment, and can be applied to offshore platforms, floating storage and regasification units (FSRU), FLNG and other offshore equipment. In the field of energy development, new energy power generation technologies such as natural gas, nuclear power, solar thermal power generation and hydrogen energy will become the main energy acquisition methods in the future. These new energy systems urgently need PCHEs. With its high efficiency, energy saving and environmental protection, microchannel heat exchangers can bring considerable economic benefits.
The appraisal meeting of the "Micro Channel High-Efficiency Compact Heat Exchanger (PCHE)" engineering prototype was a complete success. This heat exchanger has been rated as internationally advanced, marking that HZSS's PCHE products have reached a new level in the field of offshore engineering.