heat exchanger for CO2 heat pump


Supercritical CO2 HE
Air source heat pump applied CO2 as refrigerant, and get heat from air. Over critical section co2 system heat release temperature is about 80 -100 °C, and it is very suitable for heating water.HZSS CO2 heat pump water heater gas cooler/regenerator can standa high pressure,inner tube material is BFe10-1-1,and the spiral grooves inner tube cab also enhance the heat exchangers ability for pressure standing. Besides BFe10-1-1 material can also be of anticorrosion.
Product Profile: HZSS's self developed supercritical heat exchanger is applied in transcritical carbon dioxide heatpump water heater system.
Product Features:
1. Water in the inner coil and gas in between the inner and outer coil to enhanceturbulence intensity and heat transfer coefficient.
2. Spirally corrugated tubes increase heattransfer surface area to create higherefficiency.
3. Reliable with higher pressure stand and less welding points.
4. Anti-freezing and self cleaning.
5. Cupronickel inner tube gives better compressionperformance and corrosion resistance.
Model List of Heat Exchanger for CO

2

Heat Pump

Model
Refrigerant
Water flow
Capacity
Drawing
GPM
m³/h
Btu/h
kW
SS-0060GN-U-S
R744
0.43
0.10
15400
4.5
View Drawings
SS-0100GN-U-S
R744
0.57
0.13
20500
6.0
View Drawings
SS-0125GN-U-S
R744
0.76
0.17
27300
8.0
View Drawings
SS-0150GN-U-3
R744
1.14
0.26
40900
12
View Drawings
SS-0250GN-F-3
R744
1.51
0.34
54600
16
View Drawings
SS-0300GN-F-3
R744
2.60
0.59
93800
28
View Drawings
SS-0360GN-F-3
R744
3.31
0.75
119400
35
View Drawings
SS-0300GN-U-6
R744
5.21
1.18
187600
55
View Drawings
SS-0300GN-U-9
R744
6.63
1.51
238800
70
View Drawings
SS-0300GN-U-12
R744
9.47
2.15
341200
100
View Drawings
SS-0420GN-U-12
R744
12.78
2.90
460600
135
View Drawings
Note: SS-0XXXGN, G=Carbon steel,N=Cupronickel, U=Trombone.
Test Condition:Air side temp dry/wet bulb 20/15℃, Water Inlet Temp 15℃, Water Outlet Temp 55℃.
Air side temp dry/wet bulb 68/59°F, Water Inlet Temp 59°F, Water Outlet Temp 131°F.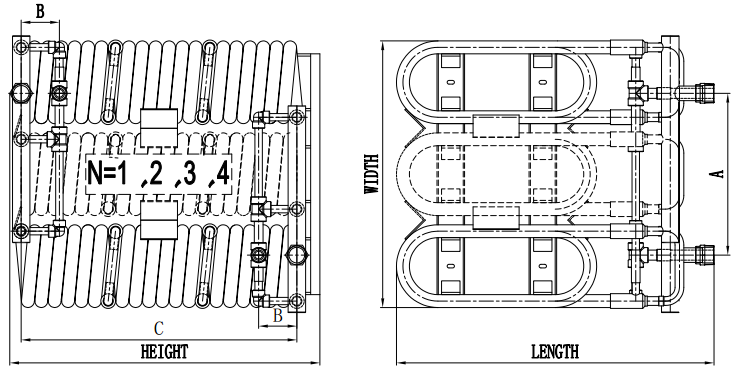 Model

Refrigerant Inlet
OD(mm)
Refrigerant Outlet
OD(mm)

Water Connection

Length(mm)

Width(mm)

Height (mm)

A(mm)

B(mm)

C(mm)

N(pcs)

SS-0060GN-U-S
9.52
9.52
R 1/2"
420
145
272
122
45
231
1
SS-0100GN-U-S
9.52
9.52
R 1/2"
430
147
354
122
45
312
1
SS-0125GN-U-S
9.52
9.52
R 1/2"
480
152
394
122
45
352
1
SS-0150GN-U-3
12.7
12.7
R 1/2"
610
230
463
127
50
410
1
SS-0250GN-F-3
16
16
R 3/4"
580
325
430
290
60
385
1
SS-0300GN-F-3
16
16
R 3/4"
680
328
475
290
60
422
1
SS-0360GN-F-3
16
16
R 1"
675
340
516
300
60
456
1
SS-0300GN-U-6
22
22
R 1"
665
400
669
152
83
599
2
SS-0300GN-U-9
22
22
R 1-1/4"
690
600
674
352
83
599
3
SS-0300GN-U-12
22
22
R 1-1/4"
690
800
674
152
83
599
4
SS-0420GN-U-12
22
22
R 1-1/4"
725
900
684
170
83
599
4