heat exchanger for marine AC
Marine Condensing Coils
Using sea water as cold source for providing heat/cold air, the marine AC can supply comfortable working can living condition for the marine.
Product Profile:
HZSS Marine condensing coils are made of titanium with enhanced grooveline technology to achieve high efficient and high corrosion resistance.
Product Features:
1. Water in the inner coil and gas in between the innerand outer coil to enhance turbulence intensity and heat transfercoefficient.
2. Spirally corrugated tubes increase heattransfer area to create higher efficiency.
3. Reliable with higher pressure stand and less welding points.
4. Anti-freezing and self cleaning.
5.Titanium inner tube with high corrosion resistance.
6.Enhanced groove line inner tube surface increase heat transferefficient by 30%.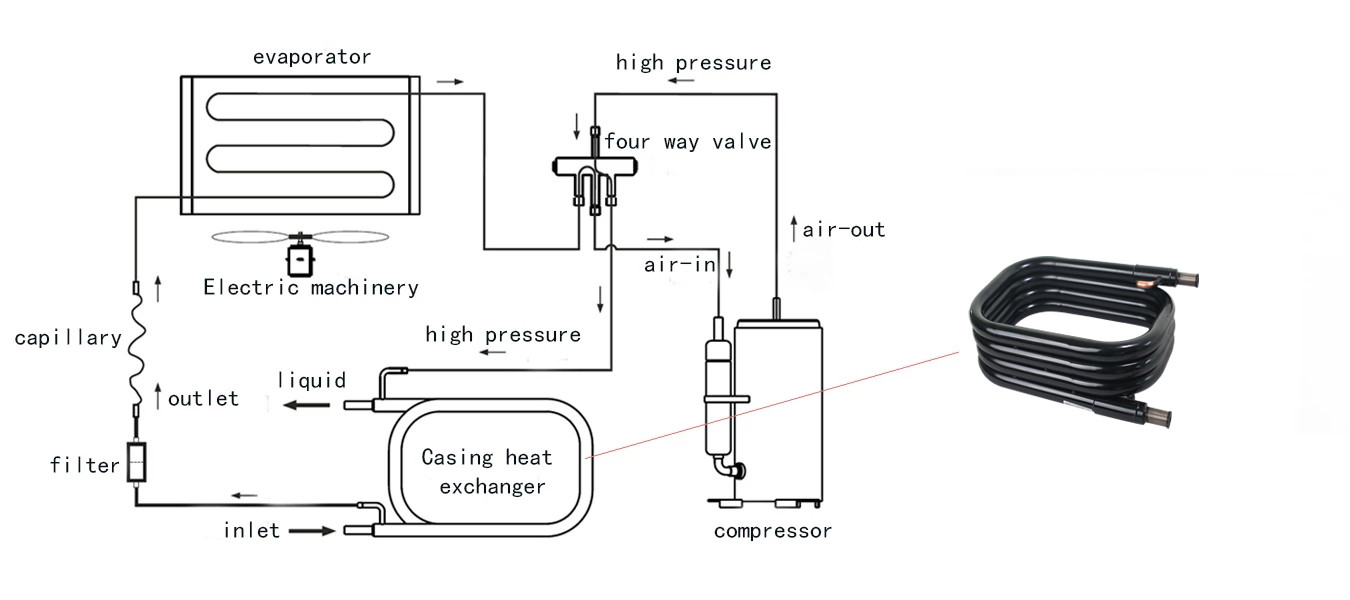 pic-1 example of coaxial heat exchanger for marine AC
Model List of Heat Exchanger for Marine AC
Model
Refrigerant
Water flow
Capacity
Drawing
GPM
m³/h
Btu/h
kW
SS-H100GTi-F
R410A
2
0.45
10000
2.9
View Drawings
SS-H125GTi-F
R410A
3
0.68
15000
4.4
View Drawings
SS-H150GTi-F
R410A
4
0.91
20000
5.9
View Drawings
SS-H200GTi-F
R410A
5
1.14
25000
7.3
View Drawings
SS-H250GTi-F
R410A
6
1.36
30000
8.8
View Drawings
SS-H500GTi-F
R410A
12
2.73
60000
17.6
View Drawings
SS-H600GTi-F
R410A
15
3.41
75000
22.0
View Drawings
SS-H750GTi-F
R410A
18
4.09
90000
26.4
View Drawings
Note: SS-HXXXGTi, H=Enhanced, G=Carbon Steel, Ti=Titanium.
Test Condition: As Condenser, water inlet temp 29.4℃,water outlet temp 35℃,Condensing Temp 40℃.
As Condenser, water inlet temp 85°F,water outlet temp 95°F,Condensing Temp 104°F.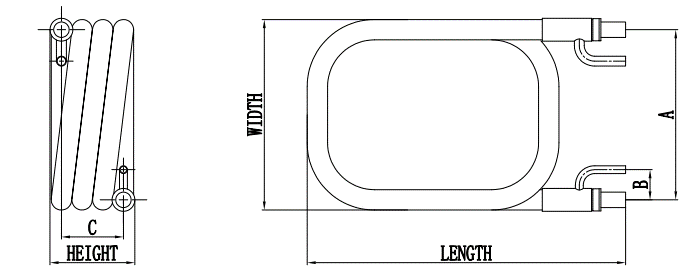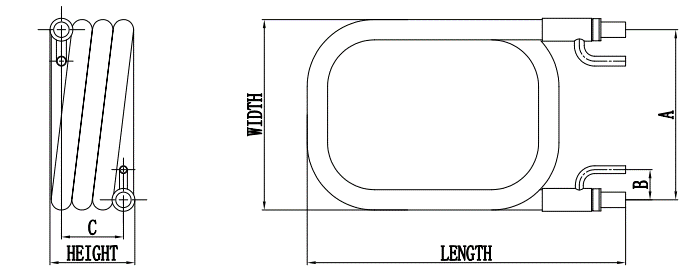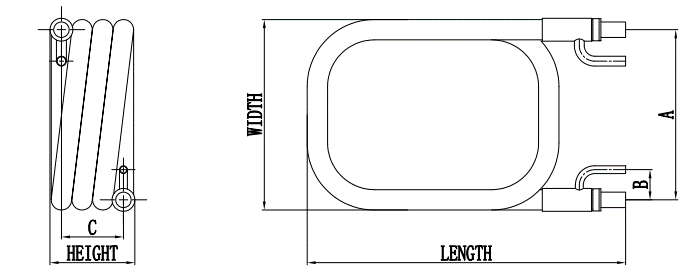 Model
Refrigerant Inlet
OD(mm)
Refrigerant Outlet
OD(mm)
Water Connection
OD(mm)
Length(mm)
Width(mm)
Height(mm)
A(mm)
B(mm)
C(mm)
SS-H100GTi-F
12.7
9.52
14
320
205
63
182
50
40
SS-H125GTi-F
12.7
9.52
18
340
262
73
237
50
48
SS-H150GTi-F
12.7
9.52
19
345
270
82
242
50
54
SS-H200GTi-F
12.7
9.52
22
390
245
92
213
50
60
SS-H250GTi-F
12.7
9.52
22
390
283
92
251
50
60
SS-H500GTi-F
16
12.7
25
500
313
138
276
50
101
SS-H600GTi-F
19
12.7
30
615
326
169
283
60
126
SS-H750GTi-F
19
12.7
35
625
410
179
360
60
129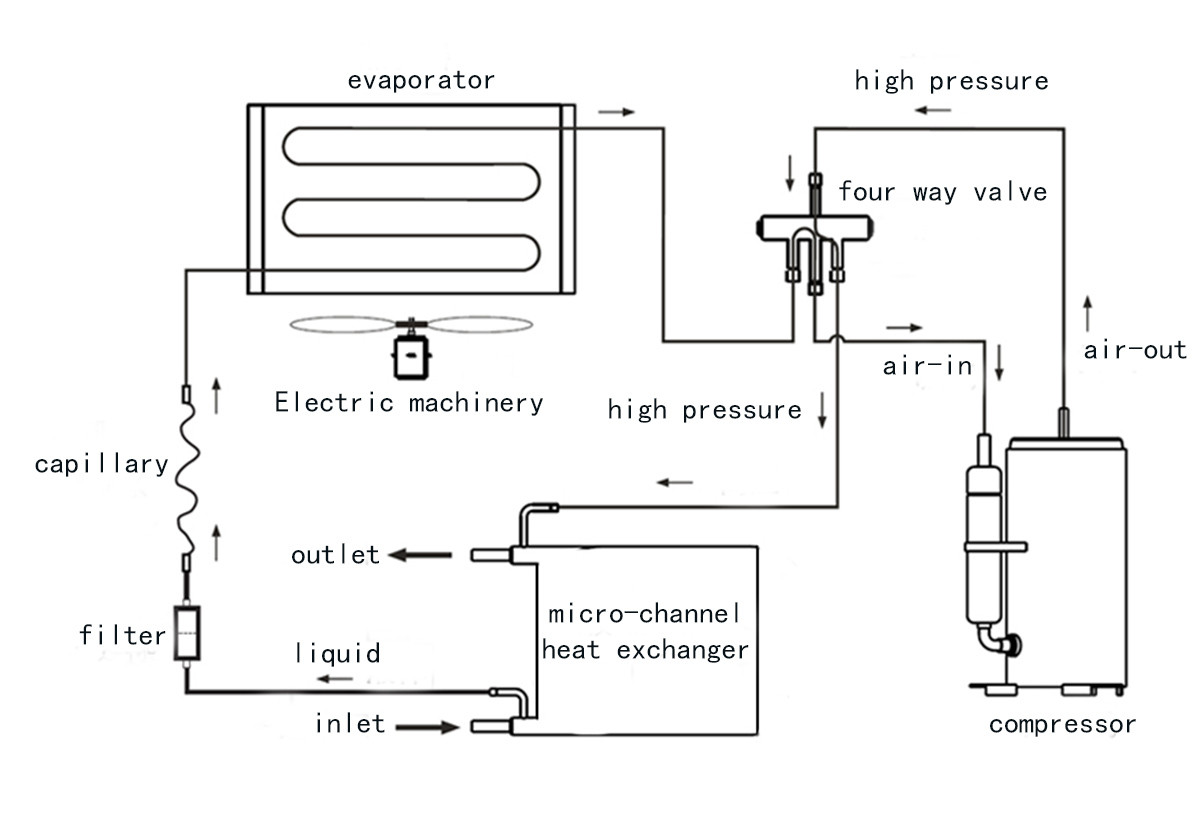 pic-2 micro-channel heat exchanger for marine AC
Model List of Micro-Channel Heat Exchanger for Marine AC
Product Classification
Model
Capacity (kW)
Drawing
Micro-channel heat exchanger
SS-0050WT-Ti-P
5.0
View Drawings
Micro-channel heat exchanger
SS-0300WT-Ti-P
30
View Drawings
Micro-channel heat exchanger
SS-0700WT-Ti-P
70
View Drawings