Micro Cooling System
---
Product Introduce
HZSS is one of the first companies who started to R&D micro compression-expansion cooling systems. Since 2010, HZSS devoted ourself to micro compression-expansion cooling systems. Now HZSS' products have been widely used in body cooling(heating), medical cold compress, portable/vehicular cooling system, test instruments, high precision temperature controlling etc.
On the other side, HZSS also have solution for semi-conductor cooling products.
Product Principle
---
HZSS micro compression-expansion cooling products adopt compression refrigeration cycle theory for cooling and some of them also can be used for heating. The systems consist of thermal dissipation, compression cooling system, liquid/air temperature controlling system and control system. Liquid/air temperature circulation system absorb and take heat which may come from human body, electronics, enviroment or other place to evaporator that has refrigerant circulation in it of compression system. In compression cooling system, refrigerant cyclically move through compressor and throttling device and take heat to condenser of thermal dissipation system. In thermal dissipation system, heat is dissipate to enviroment or cold water. Using PTC eletric heating or electric resistance wire heating, temperature controlling system increase the temperature of heat source, at this time compression cooling system and thermal dissipation system will not work; Using heat pump priciple for heating, these machine will work according to reverse-cooling system. Controlling system will set the parameters, control temperature and protection the other 3 systems(thermal dissipation, compression cooling system, liquid/air temperature controlling system).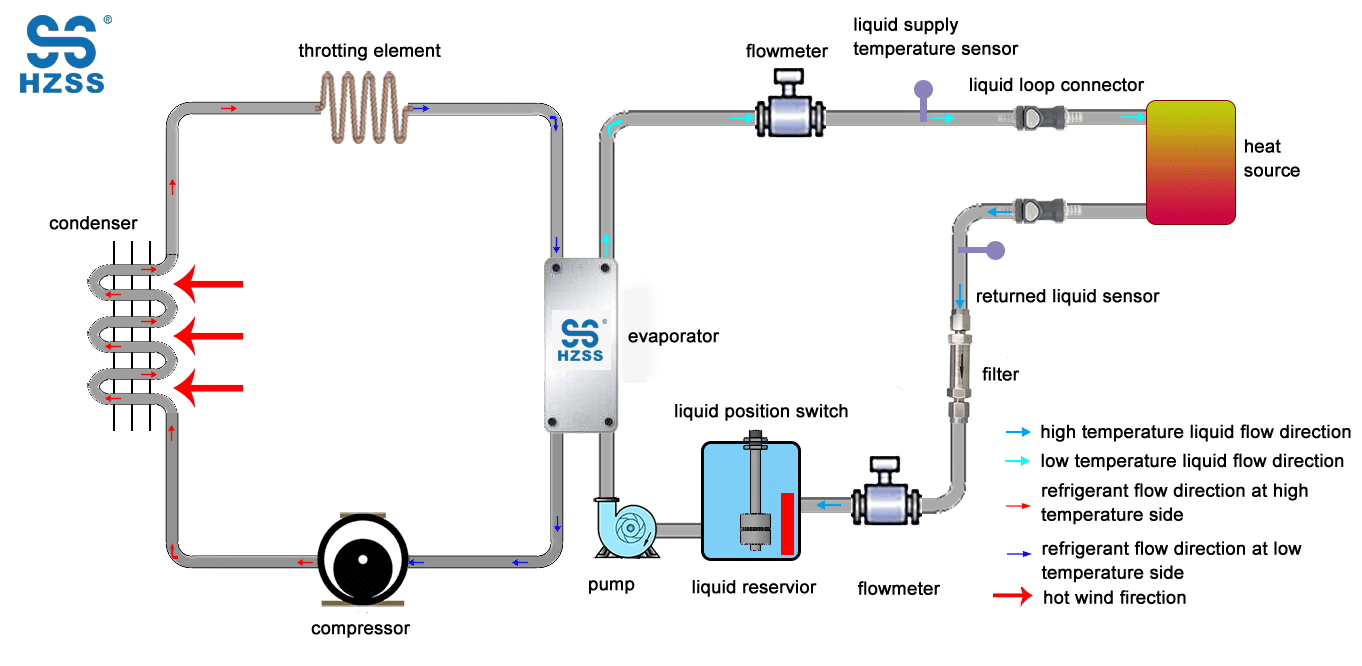 Pic-1 cold liquid system working principle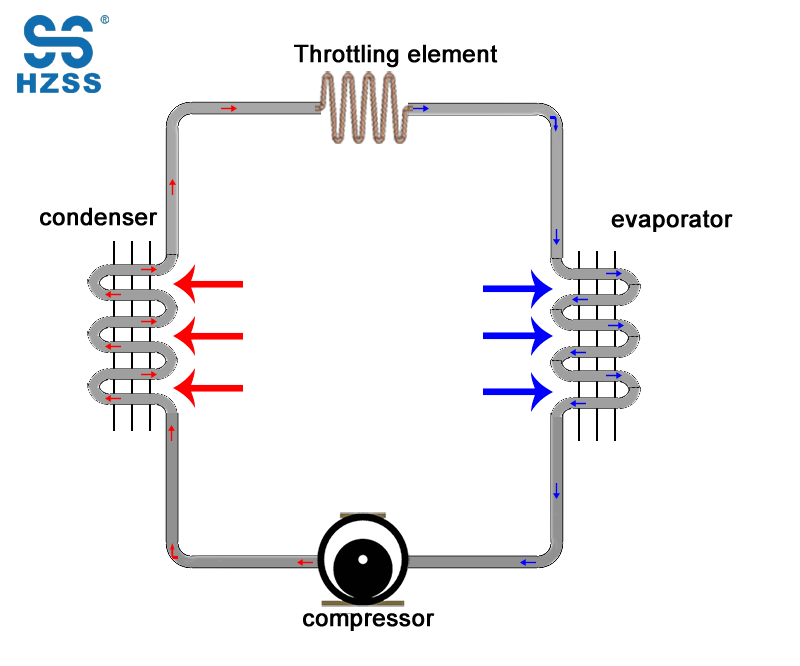 Pic-2 cold air system working principle
Features
---
① Small and light:

When comparing with related products HZSS micro compression-expansoion cooling products are the most small and most light ones. HZSS micro cooling system are widely used in aerospace, vehicle-mounted, small space, portable conditions that have special requirments for small size, low weight and high power density.

② High thermal density:

HZSS micro cooling system has excellent thermal dissipation and cooling ability.

③ High COP:

The COP of micro cooling system is about 2.0, which is 5 times that of semiconductor cooling device, and much higher than other refrigeration ways. Because of high COP, they will need smaller room for heat dissiaption.

④ Easy for controlling:

Liquid connector, electronic joints all are quick coupling. And all parameters can be set on the display pannel. If needed, these products can communite with upper computer to set parameters and share data in real time.

⑤ Precisely control temperature:

Depending on continuously variable transmission of compressor, fan, pump and our controlling algorithm, we can control temperature with erro of ±0.2 °C or ±0.1 °C.

⑥ Reliable and safety:

Products have passed through many kinds of reliability and safety test, like vibration, pressure, barometric pressure, temperature, oil return, condensation, weather ability, reliability of liquid pump/fan and so on. Before ex-factory every products will be test, they can also be test of EMC according customers demands.

⑦ Excellent enviroment adaptation:

(1) Cooling or heating in temperature of 50 ℃~-40℃. Temperature can be continuously controlled from -20℃~ 35℃.
(2) Adapt to 0.5 ~ 1 atmospheric pressure (high altitude) working environment.
(3) Response quickly according to temperature changing.
(4) Adapt to mobile sloshing environment (transportation, people carry).
(5) According to the requirements, it have the corresponding level of waterproof and dustproof function, electromagnetic compatibility, medical device certification.

⑧ Smart:

Products will self diagnosis there main parts and key functions, and some of them can self-recovery, if some thing wrong happened.

Some products can be controlled remote
Products Style
---
| | | |
| --- | --- | --- |
| Portable body cooling system | Micro cold water system | Computer case cooling system |
| Medical Cold/Hot compress system | Cold air system | Small room cooling system |
---
R&D
HZSS have the ability of R&D, test, large-scale manufacturing, quality controlling and whole manage system for micro cooling system.
< Our team

HZSS micro cooling system team is a professional team for item management, system design, heat exchanger design, refrigeration design, thermal design and simulation, structure design, industrial design and other work related to product.

Micro cooling system test center >

Product test center that has complete assessment system can test reliability and safety test, like vibration, pressure, barometric pressure, temperature, oil return, condensation, weather ability, reliability of liquid pump/fan and so on, which can help keep the quality of product.

< Factory

HZSS has complete manufacturing line with the production capacity of 900 units per month. There we can finish the job of electronic install, welding, test(vacuum leak detection, electronic, performance), package and so on.

Quality management >

We have built a complete manage system for material check, R&D quality to the ex-factory of product, and some product is managed by military standard. And we also have prodessional after-sales team.
HZSS can prodive
---
① Standard product

Refer to application for details.

② Custormized products

HZSS has a lot of experience for customerized products, especially for military products. We can provide structure, perfamance, special function custormized development.

③ Heat dissipation solution

HZSS have professional team for heat exchanger design, thermal design and simulation, refrigeration system design. Depending on your requirements for heat dissipation, we can provide best solution for you.

④ Technical consulting

We can also heat dissipation and cooling technology consulting service.
Application
---
1. Body cooling for people working in high temperature
2. Heating for people in low temperature
3. Medical cold/hot compress
4. Laser beauty device
5. Portable cooling
6. Portable gas liquidation
7. vehicle-mounted micro cooling
8. Electronics heat dissipation
9. Computer server cabinet cooling
8. Airtight hatch/radome/satellite radome heat dissipation
9. Laser cooling
10 . Constant temperature test machine/table concentrator
11. Low temperature whizzer
---
Partner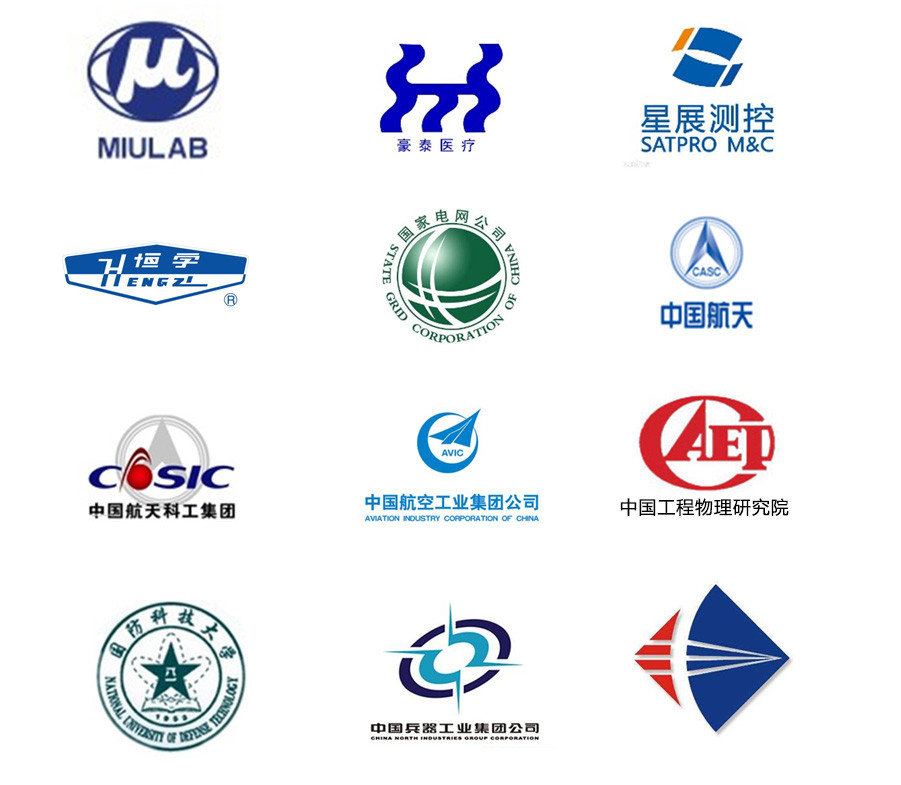 Please send your message to us
Contact Us

TEL: +86-0517-64510919
Email: gjb@hzssjn.com
Location:Dadiankou District, Hangtou town, Jiande City, Hangzhou, Zhejiang Province, China

Compasny Profile

Hangzhou Shenshi Energy Conservation Technology Co., Ltd (HZSS) is a leading research & development, manufacturing, sales, and service supplier for heat exchangers, energy conservation products. HZSS is located in Hangzhou city, the east of China,...